I have spent
most of the last year
(2011) recording lots and lots of basic tracks containing just enough information in either a guitar, keyboard or vocal (or combination of each) to remind me what it was I was intending to do with the finished song when I get around to finishing it. I have been doing this rather than completing full songs because of a
problem I had discovered with my studio monitoring setup
.
Basically I had been aware for some time that what I heard through the monitors in my studio was not what I would hear in a 'real world' environment i.e. a normal stereo system. I knew that when the upper bass/lower mid range was sounding good in the studio, it would sound light and boxy on normal equipment with bass and kick drum almost completely missing so I would have to over compensate in the studio to make it sound more like I intended it to everywhere else. This was OK although very time consuming because I would have to repeatedly listen to my tracks on several different systems and make notes about what was too loud or too quiet then try to apply it in the studio without paying any attention to what I was actually hearing through the monitors (before you ask, my monitors aren't top of the range but are a very reasonable pair of KRK Rokit RP5's).
This had proved adequate for the last few years (I recorded my whole debut album this way) but then I tried to mix my most ambitious track to date, 'Self Portrait'. This song has around 70 channels in it compared with my normal 20 to 30. I must have mixed, remixed from scratch, tweaked, pushed, pulled and turned upside down etc. etc. etc. this track on at least thirty different occasions only to find that what I got on a normal stereo was still complete crap.
I started to do a bit of research on this and discovered that 'standing waves' and 'room modes' (no, I had no idea at the time either!!!!) in the lower frequencies were probably being created in my room causing partial or total cancellation of some frequencies so in April last year I bought a JBL MSC1 monitor controller with the room mode correction software. I tried for over 6 months to get this to work but in the end gave up and got a refund because even trying three separate PC's each with different versions of Windows (XP Pro, Vista and 7-64 bit) the software would not take a single room reading.
In December I bought the IK Multimedia ARC System which took readings immediately and loaded really simply. I tried a couple of remixes with the ARC loaded but although there was some improvement in what I was hearing through the monitors, the sound in the studio still didn't translate well to normal listening equipment, there was still quite a lot missing in the same lower midrange.
By Christmas I had decided to bite the bullet and ask the Wife what she thought of the idea of me hanging acoustic panels all over our spare room (I mean… er. Studio). Expecting the worst I showed her a sketch of what I was proposing and to my surprise she said "If you think it will help then do it, just try not to make them look too ugly." After I got up off the floor I went on the internet and ordered a 100mm (4") pack and two 50mm (2") packs of Rockwool RW5 (I believe the US equivalent is Owens-Corning 705) which are rigid fibreglass insulation panels (not actually that rigid when you see them) and some mutually acceptable upholstery material to cover them in for aesthetic purposes (and to keep the fibreglass fibres in).
This approach did not involve any calculations, meter readings or any tests whatsoever and simply used a lot of the very good information available on various websites and forums as the basis for the design. (Two people who both own acoustic treatment companies but are very free with brilliant information both on their company websites and also contribute unselfishly in discussion forums are Ethan Winner (www.realtraps.com) and Glenn Kuras (www.gikacoustics.com), so a big thanks to these guys for the help even though I have not directly corresponded with either of them.)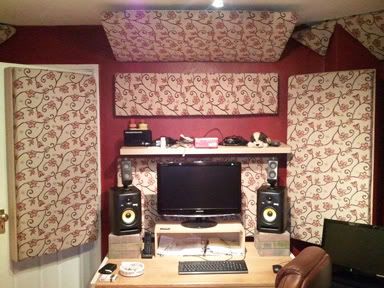 As you can see from the photo I have used the two 1200x600x100mm thick panels to help the lower frequencies (these are reasonably heavy lumps of fibreglass so I have mounted them within mdf and softwood batten frames bracketed to the wall and door respectively) on either side of the desk and used a further two 1200x600x50mm thick panels with simple hook supports at the back behind the desk and off the ceiling above. A further four 1200x300x50mm panels are above and alongside the desk and some smaller triangular panels in all of the upper corners of the room. I still have three sheets of the 50mm panels left over for additional areas if necessary (I am going to make some portable 1200x600x50mm panels out of these to use as and when necessary either for recording or mixing). I should note that I have an open clothes rack and a shelving unit full of books and boxes in the two rear corners of the room so firstly adding corner traps there is not an option and secondly the diffusion and absorption provided by the books and clothes is probably not hugely below what the fibreglass panels would offer anyway. In total I have just under 5 square metres (55 sq ft) of panels installed permanently.
I can hear you from here…. "Yeah nice description dickhead, but did they do anything????" The easy answer is…… 'Oh hell yeah!!!'
The first track I played suddenly had a lot of the missing bass/lower mid range tones in it and played with a nice warm tighter bottom end, it seemed less harsh at the top while still being bright and the definition between the instruments/vocals was far superior and tighter than anything I had been able to hear before. Most remarkable was the stereo field, previously things hard panned left or right had sounded more like being just slightly off centre whereas now things are very clearly where the pan control says they should be.
I did a quick remix of 'Self Portrait' over an hour or so and was stunned at how many adjustments I had to make to each track to get it sounding right on the 'new system'. Once I had finished I burned it to CD and played it on a couple of other systems in different spaces and found that the sound of the mix on these systems was very, very similar to what I had heard in the studio. I listened to it regularly in my car and on other systems over the following week and then went back to make some adjustments at the weekend. At this point it became blindingly obvious that the few bits of acoustic treatment in the room had now provided me with a monitoring environment which produced results that were nearly 100% transferable to other audio equipment, in other words exactly what I was missing before. Basically my quick remix was better than any of the numerous previous mixes I had done, and by a very large distance.
I used the IK ARC system to see if there were any obvious changes to the readings it provided before I did the acoustic treatment and as you can see in the images below there has been up to a 10db reduction in amplitude in the lower frequencies where most of my problems seemed to be. I still don't profess to know very much about this technically but I know that if I turn up a track by 10db something dramatic will happen. Well something dramatic happened after fitting the acoustic treatment and its all in a positive way.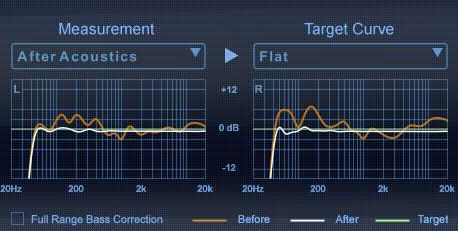 I did try using the ARC system in conjunction with the acoustic treatment and it did give me some helpful insight into some of the likely minor mix corrections and compensations I may have to make (because three bales of Rockwool will not give anyone a million dollar control room on their own). This far though I have found that I prefer the results with just the monitors and room treatment better as the ARC system seems to be giving exaggerated corrections some of the remaining problems it is finding.
Hopefully from now on I can spend a lot more time recording and producing new tracks and a lot less time fighting my equipment.
Total cost of this exercise - £154.00 + a good few hours DIY input.
Satisfaction with the result – Priceless!!
Thanks for Reading
-JD-